We're very excited to announce that we've rolled out a pretty useful bit of new functionality.
Our users told us that they wanted to review their blogs with their metrics at the same time. So we've built the 'Inkybee Browsing Bar'. It enables a completely fresh way to look at any blogs by viewing the blog homepage whilst also seeing the important metrics and having access to 'add to' and 'remove from' list functionality.

The Browsing Bar view is accessible by clicking this button;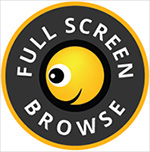 The bar shows Audience and Engagement metrics:

And with one click an expanded view shows a full list of all metrics like this:
It is also possible to set up post, tag or blog searches directly from the bar.

We'd really appreciate hearing your thoughts on this bar so we can make it as useful as possible.
Do you like the general concept? How about if we also made it a web browser plug-in?
You can login via the orange button above, or if you are new to Inkybee, you can create a 30-day free trial account on the home page.
Let us know what you think in the comments below.
[Inkybee-Signup]