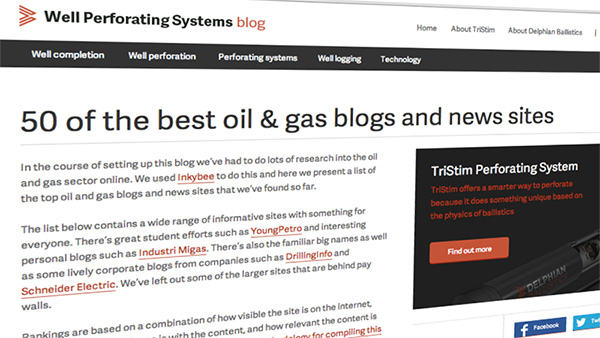 Delphian Ballistics have been using Inkybee to research the oil and gas sector and we've helped them use the results of this research to create a list of '50 of the best oil & gas blogs and news sites'.
Why is this useful?
Several reasons:
They now know who the influencers are in their sector, in detail;
They can use Inkybee outreach tools to keep track of their relationships with all of them;
They can also get alerts for specific keywords that any of the bloggers mention; and
They've created a valuable resource that lots of industry influencers will be interested in (= high industry visibility and SEO benefits).
So how did they do it?
They used Inkybee's research tools to find the thousands of blogs relevant to the oil and gas sector. They then used Inkybee's segmentation tool to calculate relevancy against 38 oil and gas related keywords and sorted them based on a combination of variables including reach, engagement and activity.  The specific methodology was the same as we used previously for the list of top public relations blogs.
Want to show off your sector knowledge?
You can create your own lists of influencers and share them with your clients by using Inkybee's new "Dynamic Lists" functionality. This allows you to share your work with your network of contacts. You can give it a try by creating a free trial account below.
The only difference in the Delphian Ballistics case is that this is the first time we opened up the Inkybee API to an external customer to enable the results to be displayed on their website. Get in touch or let us know in the comments below if this is something you'd like too.
[Inkybee-Signup]