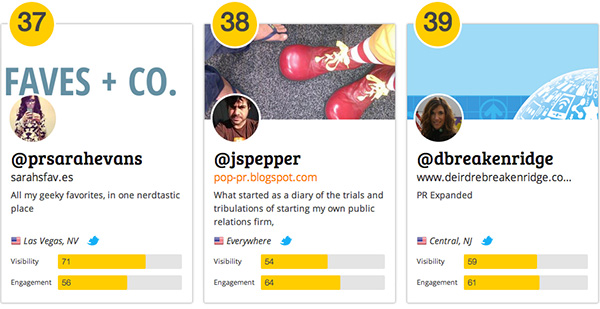 A couple of weeks ago we published our list of "60 of the best English speaking PR Blogs in the world".
Now we've taken this a step further by creating a new list of the blogs associated with the most followed Twitter accounts from our original list.
We curated the original list of great PR blogs by creating a linguistic fingerprint of the Public Relations profession and then ranking the blogs found based on relevance, visibility, engagement and activity. You can read the full methodology here. We published "60 of the best" but actually we could conceivably have published several hundred.
This week we thought it would be interesting to take this a step further. Inkybee stores a lot of "big data" – for every blog we store it's posts, tags, social media profiles and an array of useful data (engagement, audience, links, SEO authority, etc). As you can imagine, this creates a vast network of interwoven data. And by analysing the relationships within this network it is possible to start to gain a deeper understanding of who is influential for any particular subject matter.
As a first, simple demonstration of this, we took our list of 60 of the best PR blogs, identified the main Twitter handle associated with each one and analysed who they were following. When all 60 are combined, the people and organisations appearing on this list the most often are the ones that are the most connected to this influential Public Relations network, so a degree of influence can be inferred on them too.
You can see this new list of blogs associated with the most followed Twitter accounts here.
"Social network analysis" is a science in itself, so a much deeper dive is required to really interpret the full data set properly, but we think even this first pass derives an interesting list – definitely worth following many of these guys. What do you think?
And if you'd like to run this analysis for your own friends on Twitter, you can, here.
[Inkybee-Signup]